British Foreign Secretary Liz Truss raised the case of two Britons sentenced to death for fighting Russian forces in a phone call with her Ukrainian counterpart.
Aiden Aslin, 28, and Shaun Pinner, 48, were found guilty of taking steps towards a violent power grab in a court in the self-declared republic of Donetsk.
Truss said she called Ukrainian Foreign Minister Dmytro Kuleba on Friday to "discuss efforts to secure the release of POWs held by Russian proxies."
No 10 said the men were entitled to combatant immunity as prisoners of war.
Downing Street also said that while Boris Johnson was "appalled" by the convictions, there were no plans for direct interventions with Russia, with the focus on their status as members of Ukrainian forces.
"The judgment against them is a flagrant violation of the Geneva convention," Truss said. "The UK continues to support Ukraine against Putin's barbaric invasion."
An adviser to Ukraine's interior minister said on Friday that Russia had the men sentenced to death in order to gain leverage in its negotiations with Ukraine and its Western allies.
"The trial of foreigners raises the stakes in the negotiation process of the Russian Federation. They use them as hostages to pressure the world during the negotiation process," Vadym Denysenko said.
He said Ukraine would coordinate its position on penalties with Britain, the United States and the EU. Ukraine has already sentenced several Russian soldiers to long prison terms for war crimes and Russia may seek to exchange the prisoners to get them back.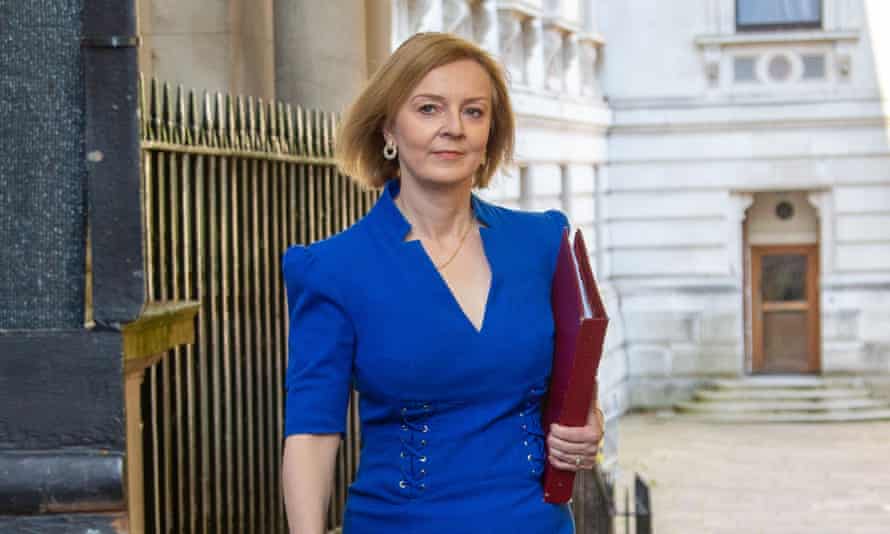 Russia has claimed it has no influence over the proceedings, which took place in Russian-occupied territory in eastern Ukraine. "I prefer not to interfere with the functioning of the judicial and law enforcement authorities of the Donetsk People's Republic," Russian Foreign Minister Sergei Lavrov said, referring to the proxy government.
MPs who represent the two men as constituents, Robert Jenrick, MP for Newark, and Richard Fuller, MP for North East Bedfordshire, have called for Russian officials to be summoned to answer for the actions of their proxies in the area Ukrainian.
Speaking on BBC Radio 4's Today programme, Jenrick said: 'I have urged the Foreign Secretary to immediately raise this issue at the highest level with the Russian government. The UK needs to be clear that you cannot treat UK nationals in this way. This is truly the most flagrant violation of international law.
He added: "Aiden and Shaun are not mercenaries, they are combatants, who are now prisoners of war and must be treated according to the Geneva conventions, and the Geneva convention is violated in the most flagrant way by Russia by holding this kangaroo court and now this death sentence.
Jenrick said the men were 'hooked and used in a Soviet-era show trial as a means of taking hostages or getting revenge on the UK'.
He said a prisoner swap could be a solution, but it required Russia to "play ball, take this issue seriously and start fulfilling its international obligations".
Fuller said the men need access to health care and legal advice. He said it was fair to say they put themselves at risk, but added: 'Central to all of this is the acknowledgment by the Russian authorities and their proxies in this region that Shaun and Aiden were members of the Ukrainian army, they are prisoners of war and that the Geneva Convention applies. There seems to be no acknowledgment of this.
On Friday morning, Schools Standards Minister Robin Walker said the government would use all diplomatic channels to raise the matter. He told Sky News: 'We totally condemn the approach that has been taken here and we will use every method at our disposal to resolve this issue.
A Moroccan national, Saaudun Brahim, was convicted alongside Aslin and Pinner. The men were accused of being mercenaries after fighting with Ukrainian troops.
Russian news agency Interfax said the men could appeal their convictions. Russian Foreign Ministry spokeswoman Maria Zakharova described Britain's reaction to the convictions against the men as "hysterical" and said a British appeal should be directed against the self-declared republic of Donetsk, a territory occupied by Russia internationally recognized as part of Ukraine.
Aslin is from Newark-on-Trent in Nottinghamshire and Pinner is from Watford, but her mother lives in the Fuller constituency. They were both members of regular Ukrainian military units fighting in Mariupol, the southern port city that has seen some of the heaviest fighting since Vladimir Putin invaded Ukraine.
Concerns have also been raised in Ukraine over the status of Andrew Hill, 35, who was captured in fighting in southern Ukraine. Unlike the other two Britons, Hill is a member of the International Legion, the group of several thousand volunteer soldiers who agreed to fight in the Ukrainian army during the war.
A Legion spokesperson said they were concerned for the well-being of Hill, who local reports said was also going to stand trial alongside Aslin and Pinner. "Then the trial came and went and it turned out that Andrew Hill was not one of those convictions, which raises the question of what happened to him. What is his status? Is he still alive? ".
#Liz #Truss #speaks #Ukraine #British #death #sentences #fighting #Russia #Ukraine
Post expires at 5:11am on Wednesday June 22nd, 2022